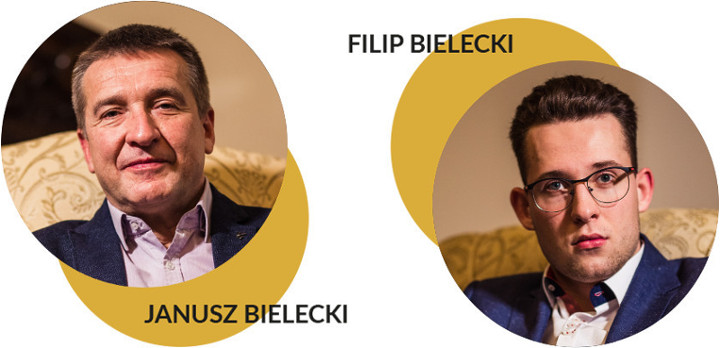 Janusz Bielecki
One of the most charismatic and valued Polish entrepreneurs. He creates both bold and innovative business ventures, operating in Poland and abroad. He is the founder and owner of numerous companies with various profiles. He still actively participates in business life by being on the Supervisory and Management boards of his companies. He is also a patron of culture for the city of Cracow, as well as an initiator of many social and economic undertakings.
Business is not the only area in which Janusz Bielecki achieved success. When he felt fulfilled as an entrepreneur, he then devoted himself fully to the realisation of his musical passions, which had accompanied him throughout his life. Within a short time he became a valued composer of solo, chamber and symphonic music. His works have been included in the repertoires of renowned artists and in the programmes of prestigious concert halls in Poland and abroad. His musical passions have also contributed to the initiation of many artistic events of the highest level. As a result, in just a few years, the Cracow businessman became one of the few leading Polish artists, promoters and patrons of music, who combine culture and business in their activities.
In 2009 Janusz Bielecki established the Bielecki Art Foundation. Its aim is to support culture and science, as well as organise artistic events. The Foundation's activity has resulted in numerous concerts, as well as in meetings of the world of art and business at People4Culture and at the International Festival Screen & Sound Fest – Let's See The Music.
Janusz Bielecki is not only a businessman, a composer and a patron of art. He is also a unique employer, who sets very high standards for his relationship with his co-workers. He tries to be not only a mentor and a source of inspiration, but also a friend.
Filip Bielecki
As a representative of the young generation of Polish business people, Filip Bielecki's priority is innovation. The main objective he has set himself within the JB Property Group is to search for new directions of development, implement new organisational solutions and optimise processes within the group. He tries to realise all this whilst still respecting the history of the group and its achievements.
Filip Bielecki is guided by the principle that achieving the goals he has set himself requires cooperation and commitment from the whole team. The foundation of that partnership is built on mutual honesty and understanding.